James Hardie Plank Siding
Great Canadian offers James Hardie Plank Siding in Edmonton, Calgary, Red Deer and Saskatoon.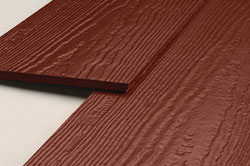 Your home endures a variety of forces. Strong winds, icy rain, and snow all take their toll on your home's exterior. To protect your home from nature's fury, contact the Great Canadian siding technicians. We offer weather-resistant James Hardie plank siding to Calgary and Edmonton residents.
James Hardie Plank
James Hardie Plank is a siding manufactured with fibre cement and comes in both a smooth or wood grain finish. It can resist hail impacts and extreme heat and has a Class A fire rating. Available in a variety of colours, it has a manufacturer's warranty of 15 years on the finish and 50 years on the core. It can also be applied over 1" foam insulation without requiring strapping, which can save time and money.
What Is James Hardie Plank Siding?
This fibre cement siding looks beautiful and stands up to extreme weather. Due to its aesthetic appeal and rugged construction, James Hardie siding is one of the most common siding materials in use today.
Designed to resist rot, weather, and warping, this fibre cement endures more than vinyl and costs less than stucco. It has also received a Class A fire rating, which means it won't melt, even under extreme temperatures.
Increase your home's curb appeal with the timeless look of plank siding. You can have this siding installed in smooth or wood-grain finishes, and you can get it in a variety of colours. It also comes with a 15 year manufacturer warranty on its finish and a 50 year warranty on its core.